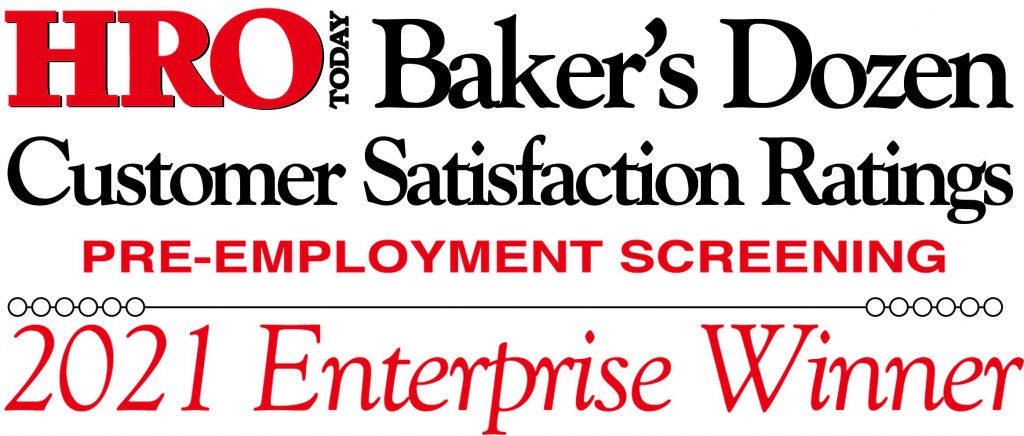 HRO Today magazine has awarded Universal Background Screening the #1 Enterprise Background Screening Firm in HRO Today's 2021 Customer Satisfaction Ratings. This year marks 12 years in a row Universal has been recognized as a top screening firm in HRO Today's annual Baker's Dozen Customer Satisfaction Rankings for Pre-Employment Screening.
HRO Today's survey is the largest and most prestigious award in the pre-employment screening industry. A very important element to this survey is that it is completely based on customer feedback, with over 1,200 HR professionals taking the survey. The survey measures screening providers in different dimensions with "Quality of Service" weighted most heavily.
"We are humbled and honored to be voted #1 overall enterprise leader this year. I'd like to acknowledge the hard work and dedication of all our employees who are entirely responsible for our achieving this result. We will continue in our firm commitment to delivering quality and service to our clients." said Kevin Olson, CEO of Universal Background Screening.
"We all know that the best workforce leads to better outcomes and that means a steady flow of great new hires. Pre-employment screening is a key part of this process. Congratulations to Universal Background Screening for providing great service to their customers," said Elliot Clark, CEO of HRO Today Magazine.
Universal will continue in its commitment to provide their clients and partners exceptional customer service, accuracy and compliance that contributed to Universal earning this accolade.