Universal Background Screening named #1 Enterprise Background Screening Firm in HRO Today Customer Satisfaction Ratings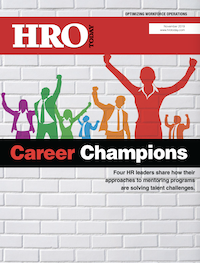 HRO Today magazine has announced that Universal Background Screening was awarded the #1 Enterprise Background Screening Firm in the magazine's 2019 Customer Satisfaction Ratings. This year marks the 10 year in a row Universal Background Screening has been recognized as a leader in HRO Today's annual Baker's Dozen Customer Satisfaction Rankings for Pre-Employment Screening.
HRO Today garners feedback from the clients of the rated Employment Screening service providers through an annual online survey. By far the largest and most prestigious survey in pre-employment screening services, it is completely based on customer feedback and quantitative rankings. The survey measures screening providers in 3 dimensions: breadth of service or how many subprocesses they provide, size of deal and quality of service. Quality of service is weighted most heavily, and then breadth of service.
Over 1200 HR professionals responded to the survey and Universal Background Screening was voted first in both the Enterprise Quality of Service ranking as well as Overall Enterprise Leader.
"At Universal Background Screening we are, and will continue to be, incredibly focused on providing an outstanding experience for our customers. The Baker's Dozen award is clear acknowledgement from the marketplace of our focus, and we are delighted and humbled to receive it. We thank the significant number of clients who participated in the survey and we look forward to continuing to delight all of our customers with an outstanding level of service through our true partnership in quality, compliance, and speed of service," said Dan Filby, CEO of Universal Background Screening.
"We all know that the best workforce leads to better outcomes and that means a steady flow of great new hires. Pre-employment screening is a key part of this process. Congratulations to Universal Background Screening for providing great service to their customers," said Elliot Clark, CEO of HRO Today Magazine.