Universal Background Screening Named Pre-Employment Screening Enterprise Leader by HRO Today Magazine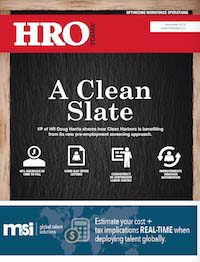 In the largest and most prestigious study of employment background screening services in the Human Resource Trade Media, Universal Background Screening was named a Pre-Employment Screening Enterprise Leader for overall customer satisfaction. This marks the 9th consecutive year that Universal has been recognized in the annual Baker's Dozen report.
HRO Today magazine, the publisher of the Baker's Dozen Customer Satisfaction Survey, recently released the results based on a comprehensive survey completed by over 1100 human resources professionals about their experience with 67 of the leading background check providers. The results are based entirely on customer feedback and quantitative rankings.
New for this year, HRO Today has segmented the providers into two groups: Mid-Market and Enterprise. Those providers that deliver screening programs above the market average in terms of size are on the Enterprise list, while those that deliver below the market average are classified as Mid-Market.
Among the rankings, Universal was ranked the #2 Overall Enterprise Pre-Employment Screening Provider, based on breadth of service, size of deal and quality of service.
"HRO Today has background checked the background checkers, and we have identified the best," said Elliot Clark, CEO of HRO Today Magazine. "We congratulate Universal Background Screening for another excellent survey year."
"Universal Background Screening is honored to have been recognized by our customers and by HRO Today magazine for nearly a decade," said Kevin Olson, Chairman and CEO of Universal Background Screening. "We are proud of our unwavering commitment to Compliance, Report Accuracy and protection of Applicant Rights, and pleased to be consistently recognized on the Bakers Dozen list for the past nine years."
Universal is a founding member of the National Association of Professional Background Screeners (NAPBS®) and was among the first handful of Screening Providers to be accredited by the Association's rigorous onsite audit of policies and procedures across six critical areas: Consumer protection, legal compliance, Client education, product standards, service standards, and general business practices.